How to Get More Hair Clients?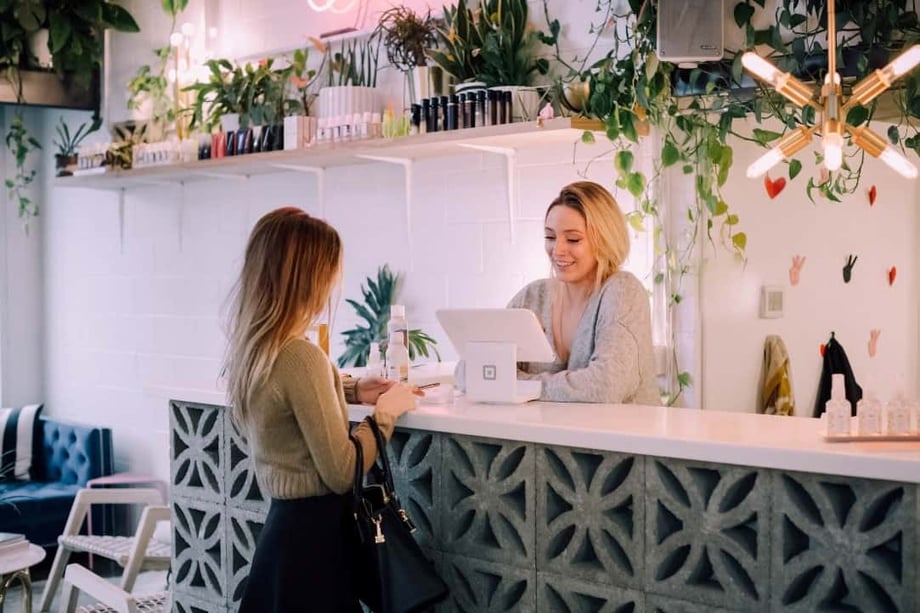 We have your answer! Thanks for joining me here. My name is Kati Whitledge, and I'm the founder and creator of Meet Your, Inc., where we are changing the way salon owners build and retain their clientele. Like you, I'm a salon owner! I know how hard it is to create a brand, then create brand awareness—enough to get new hair clients coming in everyday!
When I first opened Be Inspired Salon, I had two stylists whom neither had their own clientele. Luckily, I was personally double and triple booked so I could encourage my clientele to see our new stylists. But my clientele wasn't enough to fill both of their books! AH!
NEVER DISCOUNT TO GROW
It wasn't our salon culture, mission, or brand-vibe, to offer discounts. I really didn't want to give away our talent, nor did I want to attract clients who wouldn't value spending full price on an ongoing basis.
My solution was creating Meet Your StylistTM.. I knew if I could get in front of the kind of clients we wanted at our salon, I could seal the deal of getting them to come in if I had their emotional buy-in to our stylists. This was and is our competitive edge!
Meet Your Stylist is a fun, easy, and accurate match-making survey that goes deeper into the psyche of future-clients. Our survey discovers their personality profile, love languages, and lifestyle preferences—in addition to their service goals and hair type!
HUMAN NATURE
There are a few things I knew and know that made this the most powerful way we've gotten more hair clients at our salon.
The biggest pain point future hair clients have—finding the right
This makes it so easy to market to your community because you know that there are plenty of people looking for a hairstylist!
People vibe with your brand but they stay with your stylists.
As the saying goes, we don't get a second chance to make a first impression. If we don't match clients to stylists at our salon who are a great fit for them—we lose the chance to get them back in. This goes beyond our atmosphere and customer service experience. This is about relationships. Did my stylist click with their guest? We all know that stylists who aren't technically as sound, still have a major likelihood of building a clientele if they connect well with guests! But if they don't—we can say bye-bye to seeing them again. They won't be back. And this is why our industry new-client retention rates are below 30%. Painful!
Everyone will take your survey!
There's no better way to engage with future-clients than to offer them something that's ALL ABOUT THEM. In less than five minutes, future hair clients will see their top three stylist matches at your salon–instantly! Better yet, you'll be notified about it, and you'll get a database with all your matches and their information. This my friend is a marketing powerhouse in-and-of-itself. More on that in future conversations.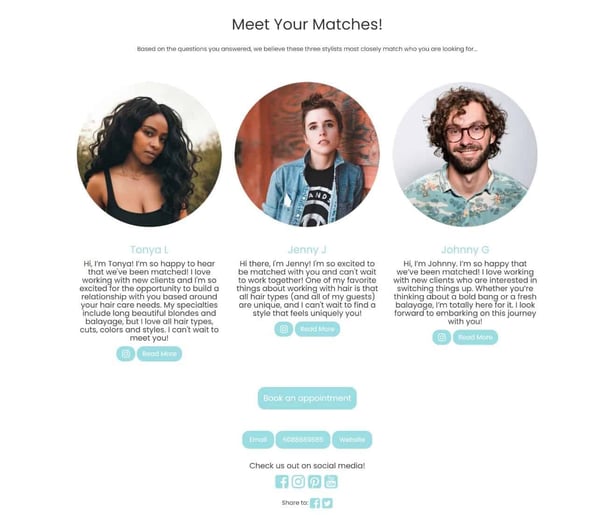 People buy based on emotion.
Over 60% of purchases are made emotionally. Hair has a lot of emotional power, doesn't it? I knew that if I could help future hair clients have an emotional connection with stylists at my prior to their first visi, I would be setting everyone up for success. The guest already trusts their stylist—no longer fearing their first visit. And stylists don't have to earn trust—thus eliminating the awkward blind date feelings they have! Anxiety diminishes and clients are ready to buy, they're excited, and they're going to be coming back over-and-over again.
So, how do you get more hair clients?
Promote Meet Your Stylist on your digital platforms!
Include in your Instagram link in bio
Promote on your Instagram feed
Promote on your Facebook page
Promote on the phone when new clients call with inquiries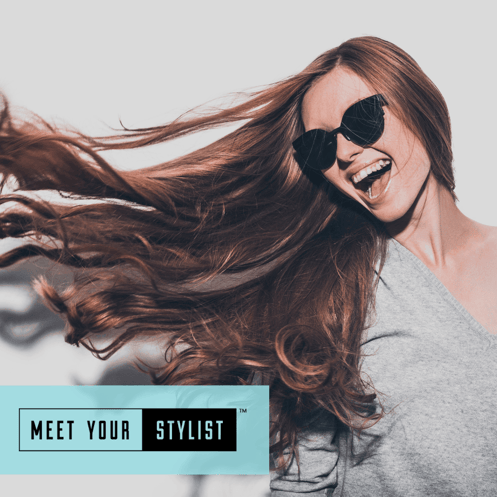 NUMBERS SAY IT ALL
The proof is in the numbers—always. Aaron Beaucher is the co-owner of La Belle Vie Salon, in New Jersey. He shared that year one of using Meet Your Stylist grew his revenue by 2% and by year two it grew by 9%! He shared this his Meet Your Stylist, hair clients spend over $40.00 more than normal new clients that came in. WOW!
Be Inspired Salon, located in Madison, Wisconsin, earned a whopping 1,083 new guests in 2020. What?! Yep, in the midst of the most challenging year in salon business, we still have the ultimate digital sales funnel in getting new hair clients in the salon—and that was and is, Meet Your Stylist.
We'd love to see if your salon qualifies to partner with Meet Your Stylist!
Do you have four or more stylists on your team?
Do you have a salon website?
Do you utilize social media?
If the answer to these questions is, YES! Then we can get Meet Your Stylist set up for your salon! Let me reiterate—WE will get it set up for you 😊 This means that it's super-easy to join and we do all of the things to get it on your website and social!
Ready to join? Click here and get your first month FREE!
For more information about how Meet Your Stylist works, watch this short video!
Related Posts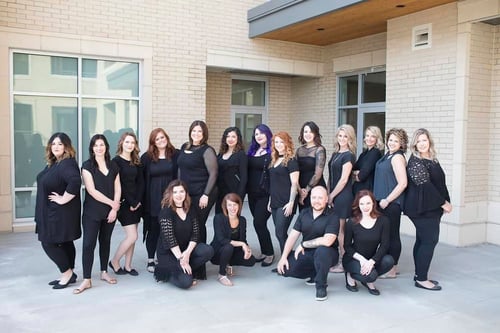 Hello again! We're back with the final piece of our four-part series on tips for your salon website. During the month of February, I have been sharing some of my best website-building secrets and this week I'm bringing it home with our final tip rega…
Read More

of You've Got to Have a Good Team Page